Thursday Dewsweeper's
This page is dedicated to various special events and results for Thursday Dewsweeper's competition golf.
Link to Thursday Dewsweeper's Player of the Month Results Page
2022 Player of the Year
The 2021/2022 Player Of The Year playoff was played in better conditions this year on July 7th where Wally Majko won the coveted trophy with a Stableford score of 36 points.

A BBQ and Drinks presentation was held on the day to announce this year's award winners; Wally Majko (POTY Trophy sponsored by David Ellis), Wayne Morrison (Most Stableford Points sponsored by Wally Makjo) and Henry Park (Consistency Award sponsored by Ted Wilson).
Big thanks to all our Thursday Sponsors (listed in our current members hand book) and those others who just chip in from time to time.

2019 Sheep Station Trophy
The second round of the Dewsweepers Sheep Station Trophy was fought out on Thursday 19th September, following the first round on Tuesday when Roger's Rams took a lead over Alan's Lambs.
The lead was kept by the Rams in spite of a gallant fight back by Alan's Lambs.
The Rams, under Eric's care and for the last two years Roger's, are undefeated since the inaugural event back in 2015.
This year's event was proudly sponsored by Bob Naffin.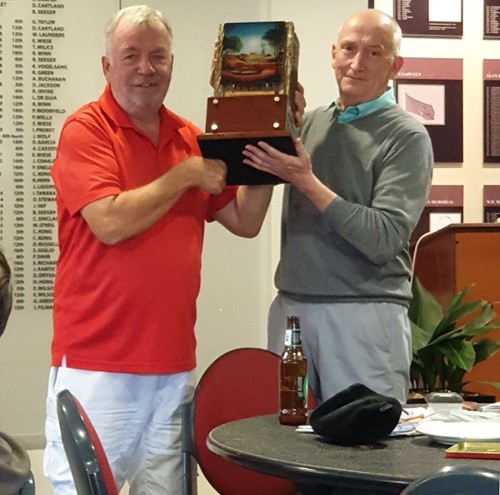 Pictured is Alan Potts & Roger Godwin with the Sheep Station Trophy
Thursday Consistency Trophy (July through June) - Each Thursday, the top 5 place-getters earn 5-4-3-2-1 points.  The player who earns the most points for the year is the winner and is awarded the perpetual trophy.
 
Thursday Stableford Points Award - The player with the most aggregate Stableford popints for rounds played on Thursdays wins the Stableford Trophy.
Thursday Totals (July through June)