Thursday Dewsweeper's
This page is dedicated to various special events and results for Thursday Dewsweeper's competition golf.
Link to Thursday Dewsweeper's Player of the Month Results Page
2020 Player of the Year
Well, the 2019/2020 Player Of The Year has come and gone. Thursday 2 July saw eligible players of the month fight it out to be crowned this year's POTY. The conditions were tough and the scores low, evidenced by Jim Hughes winning score of 33 points!

On Thursday 9 July we held a BBQ and Drinks presentation outside the Pro Shop in brilliant sunshine to award Jim Hughes (POTY Trophy), Wayne Morrison (Consistency Trophy), Barry Seeger (Stableford Trophy) and Bill Murray (Appreciation Award).

Wayne Morrison was also the highest money winner for the year. He is yet to announce when drinks are on him!

Big thanks to all our Thursday Sponsors (listed in our current members hand book) and those others who just chip in from time to time. Also, my personal thanks to Alan Potts, Bob Naffin, Bill Murray, Dan Cole, Mal Ball, Ted Wilson, Ray Saxby and Ian Probst who have helped me during my Thursday Coordinator reign.

It's now time for a change - and to that end, John Samaras has taken over the role from me supported by Gareth Bridges who is going to do some fun things with the stats this coming year.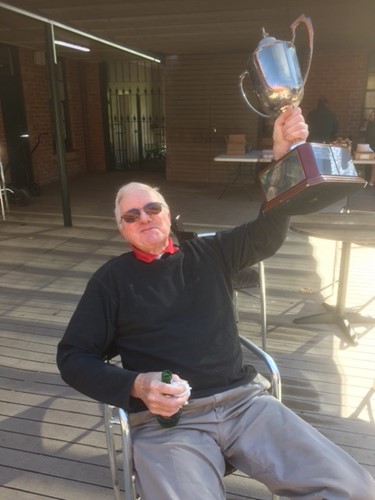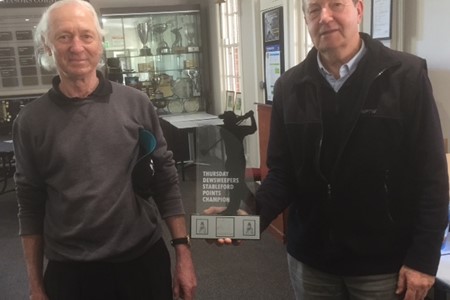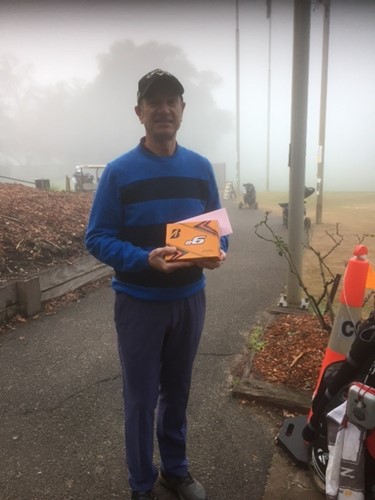 2019 Post Melbourne Cup Raffle
Pictured is Malcolm Dixon, the winner of the first prize held at the Post Melbourne Cup raffle on Thursday 7th November. The prize was for a dining experience at the 1873 restaurant at the SAJC valued at $230.
Thank you to Michael Lenthall for organising this and of course our sponsors for the day, Duncan Stewart and Ian Probst.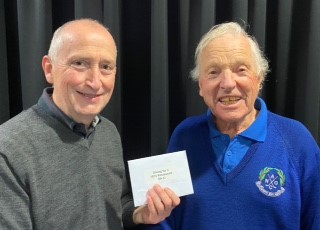 A big welcome back to Malcolm on his return to mid week Dewsweeper's.
2019 Sheep Station Trophy
The second round of the Dewsweepers Sheep Station Trophy was fought out on Thursday 19th September, following the first round on Tuesday when Roger's Rams took a lead over Alan's Lambs.
The lead was kept by the Rams in spite of a gallant fight back by Alan's Lambs.
The Rams, under Eric's care and for the last two years Roger's, are undefeated since the inaugural event back in 2015.
This year's event was proudly sponsored by Bob Naffin.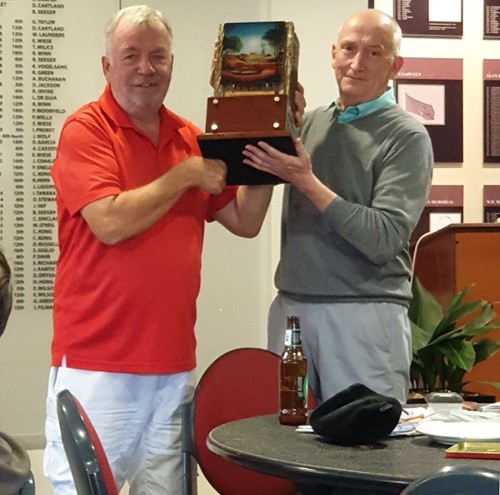 Pictured is Alan Potts & Roger Godwin with the Sheep Station Trophy
Thursday Consistency Trophy (Through September 2019) - Each Thursday, the top 5 place-getters earn 5-4-3-2-1 points.  The player who earns the most points for the year is the winner and is awarded the perpetual trophy.
1 Harrison Hong 13
2 Derek Braysher 12
3 Edward Wilson 11
4 Harbans Gill 10
5 Frank Kong & Ken Cinoris 9

Thursday Totals (Through September 2019)
1 Stephan Kim 404
2 Gareth Bridges 380
3 Saverio Giglio 372
4 Ken Cinoris 383
5 Walter Launders & David Ellis 357
Thursday Money List (Through September 2019)
1 Harrison Hong 110
2 Derek Braysher 100
3 Edward Wilson 95
4 Frank Kongs 80
5 Chris Wakelin & Ken Cinoris 70