Men's Foursomes
Men's Foursomes Championship
The Men's 36 hole foursomes championship took place over the weekend (Sept 21 & 22).
The winners were Chantha Kong and Alex Martinson with a fine aggregate score of 152 form runners up John Rowe and Wayne Innes with 183.
Although Chantha and Alex also won the overall nett as well with 145, as winners can only receive one prize, the prize for the nett score went to the runners up Ted Wilson and Ken Cinoris, who came in with a credible 150 over the two rounds.
It has to be said that the turnout for this event was disappointing with only five pairs taking part, but those who took part enjoyed themselves.
Next year we will try the men's foursomes over two consecutive Saturday's and hope for a better turnout.
Pictured are the winners of the men's foursomes trophy, Chantha Kong and Alex Martinson.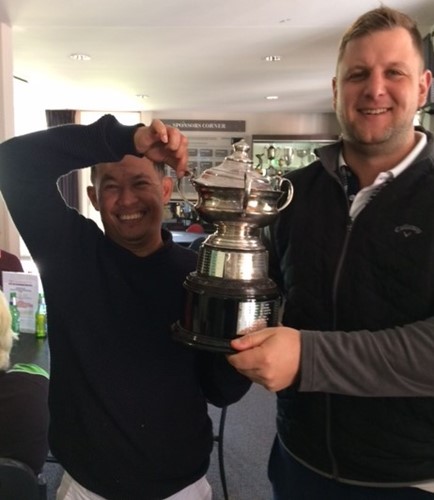 Published 23/09/2019
Back to news