Thursday Dewsweeper's
This page is dedicated to various special events and results for Thursday Dewsweeper's competition golf.
Link to Thursday Dewsweeper's Player of the Month Results Page
2019 Post Melbourne Cup Raffle
Pictured is Malcolm Dixon, the winner of the first prize held at the Post Melbourne Cup raffle on Thursday 7th November. The prize was for a dining experience at the 1873 restaurant at the SAJC valued at $230.
Thank you to Michael Lenthall for organising this and of course our sponsors for the day, Duncan Stewart and Ian Probst.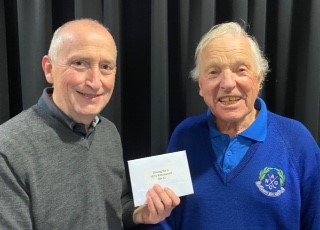 A big welcome back to Malcolm on his return to mid week Dewsweeper's.
2019 Sheep Station Trophy
The second round of the Dewsweepers Sheep Station Trophy was fought out on Thursday 19th September, following the first round on Tuesday when Roger's Rams took a lead over Alan's Lambs.
The lead was kept by the Rams in spite of a gallant fight back by Alan's Lambs.
The Rams, under Eric's care and for the last two years Roger's, are undefeated since the inaugural event back in 2015.
This year's event was proudly sponsored by Bob Naffin.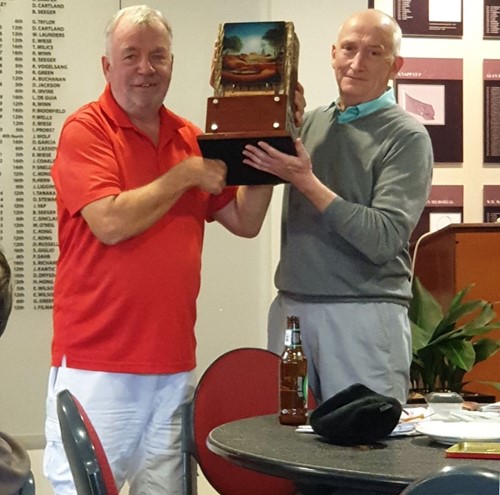 Pictured is Alan Potts & Roger Godwin with the Sheep Station Trophy
Thursday Dewsweeper's Anzac Day 'Last Man Standing' Competition
Thursday Dewsweeper's Anzac Day Last Man Standing competition was won by Bob Naffin with a Stableford score of 41 points. Bob wins the Last Man Standing perpetual trophy and a Garman S10 GPS golf watch.
Bob is pictured receiving the Last Man Standing trophy from event sponsor Brian Roberts. 
Thursday Dewsweeper's Post St Patrick's Day Event
Our Post St Patrick's Day event on Thursday 21st March was well supported considering that many semi regular Thursday Dewsweepers were away. Holidays, sickness, operations and forgetfulness all played a part.
Nevertheless, the competitions were hotly contested bringing John Kokkotos/David Holmes/Doug Drysdale in positions 1, 2 & 3 respectively for individual Stableford wins. The Irish Stableford team winners were the 'Green Gropers' comprised of Peter Sahb/Doug Drysdale/Malcolm Ball/David Holmes.
Bob Naffin was this year's putting champion - maybe because he was the only one who understood the rules!
Champion Frank Woolford was the lucky 'get it on the green' 16th hole raffle winner ($50 wish card) and David Holmes told the best Irish joke for a bottle of Irish Cream.
We drew 10 bumper raffle winners and provided each player with a pie floater and Irish Ale for lunch.
A good turn out 'to be sure'.
Thursday Consistency Trophy (Through September 2019) - Each Thursday, the top 5 place-getters earn 5-4-3-2-1 points.  The player who earns the most points for the year is the winner and is awarded the perpetual trophy.
1 Harrison Hong 13
2 Derek Braysher 12
3 Edward Wilson 11
4 Harbans Gill 10
5 Frank Kong & Ken Cinoris 9

Thursday Totals (Through September 2019)
1 Stephan Kim 404
2 Gareth Bridges 380
3 Saverio Giglio 372
4 Ken Cinoris 383
5 Walter Launders & David Ellis 357
Thursday Money List (Through September 2019)
1 Harrison Hong 110
2 Derek Braysher 100
3 Edward Wilson 95
4 Frank Kongs 80
5 Chris Wakelin & Ken Cinoris 70